Beyond The Bite
"Shining the Light Beyond the Bite"Discover Objective Measurements for TM Joints, Craniofacial Muscles, and Occlusion at the Hard Rock Hotel and Casino, Punta Cana, Dominican Republic
Where Precision Meets Paradise: 
Join us for a 3-Day Immersive Experience!
Welcome to an exclusive retreat and conference designed for dentists and craniofacial doctors alike seeking to enhance their expertise in objective measurements. Join us at the prestigious Hard Rock Hotel and Casino in Punta Cana, Dominican Republic, from January 18th to 20th, 2024, for an immersive in-person event that will revolutionize your understanding of TM Joints, Craniofacial Muscles, and Occlusion.
Expand Your Knowledge with Cutting-Edge Topics and Instruments
At our retreat and conference, we delve into the latest advancements and techniques that empower dental professionals like you to provide superior care. This comprehensive event will explore various essential areas, including sleep, Objective Sleep Apnea, TMJ (Temporomandibular Joint), and more. With a focus on objective measurements, you'll gain invaluable insights and practical skills that can transform your practice.
Unveiling Revolutionary Instruments
Get hands-on experience with state-of-the-art instruments that are revolutionizing the dental field. We'll showcase cutting-edge tools such as the BIOJVA, renowned for its accuracy in measuring TM Joints, Craniofacial Muscles, and Occlusion. Experience the transformative power of MLS Laser Therapy, a non-invasive treatment modality that enhances patient outcomes. Witness the precision and versatility of the DEKA CO2 cutting laser, designed to elevate your surgical interventions to new heights. These are just a few examples of the cutting-edge instruments you'll explore during our event.
Immerse Yourself in an Unforgettable Setting
Indulge in a unique blend of education and relaxation at the world-renowned Hard Rock Hotel and Casino in Punta Cana. Set against the backdrop of pristine beaches and lush tropical landscapes, this exclusive venue provides the perfect environment for learning, networking, and rejuvenation. Immerse yourself in the serene ambiance, where world-class amenities and exceptional service cater to your every need.
Join Our Community of Dental Experts
Connect and collaborate with a vibrant community of dental professionals from around the world. Share knowledge, exchange ideas, and build lasting relationships with like-minded experts in the field. Our event fosters an atmosphere of intellectual curiosity and camaraderie, ensuring a rewarding and enriching experience for all attendees.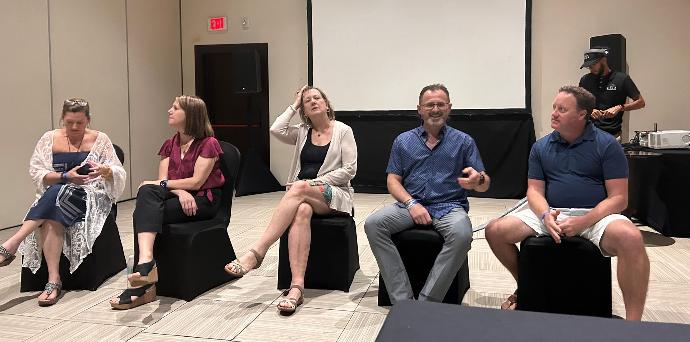 **More details regarding the event schedule, accommodation options, and exclusive offerings will be available soon, check back for updates. The purchase of a ticket covers tuition to our course and secures you a spot at the retreat including a spot on the room block roster.
Secure your spot at this transformative retreat and conference today. Register now to take advantage of early bird discounts and ensure your place among the dental industry's thought leaders

14 CDE Credits
BioRESEARCH Assoc. Inc is designated as an Approved PACE Program Provider by the Academy of General Dentistry (AGD). The formal continuing education programs of this program provider are accepted by AGD for Fellowship, Mastership and membership maintenance credit. This course provides 24 hours of CDE credit. Only BioRESEARCH provides commercial support for this program.
The Hard Rock Hotel & Casino 
Punta Cana, Dominican Republic