BioRESEARCH Summer Conference
June 15th-17th, 2023, Technology and Instruments Summit for TMD, Ortho and Sleep
Attend Virtually!
Join us for this 3-Day Webinar!
Start with the customer – find out what they want and give it to them.
Use the Code BIO2023 at Checkout and receive 50% off tuition!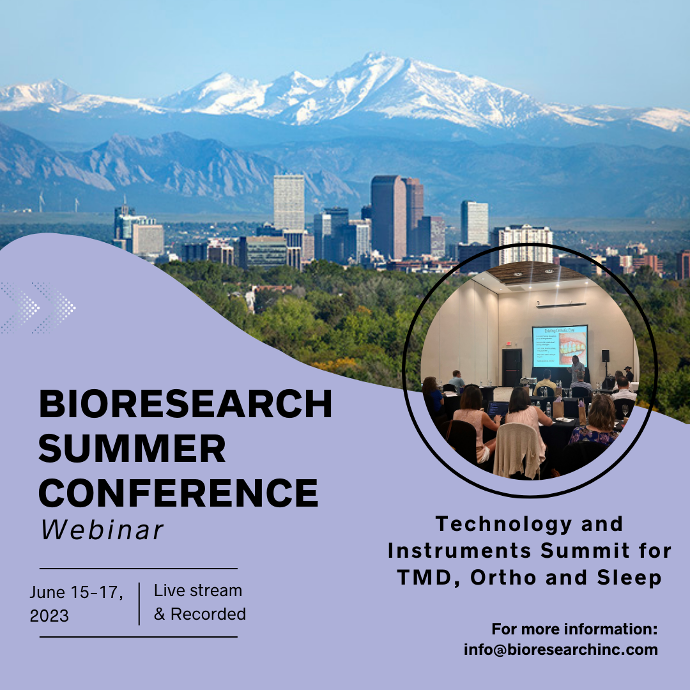 Don't miss this opportunity to network with like-minded professionals, gain new insights, and explore the latest advancements in dentistry. Register now for this exciting event, held at the state-of-the-art Vivos Institute in the heart of Denver.

Expert Speakers & Live Panel

We are excited to announce the exceptional lineup of speakers for our upcoming summer conference. Join us this summer at the Vivos Institute in Denver, CO, for an unforgettable opportunity to learn from some of the brightest minds in dentistry.

At the conference, Dr. Mike Smith, a leading expert in Dental, TMD, and Sleep, will be sharing his innovative approach to using Joint Vibration Analysis (JVA) as both a lightning-fast screening tool and a fully integrated diagnostic aid for the function of the TMJ. Attendees will have the opportunity to learn the basics of JVA interpretation and see Dr. Smith's method of incorporating the QuickSplint™ with BioJVA™ to triage patients with TMJ, muscle, and occlusal issues.

Additionally, Dr. Robert Kerstein, DMD, a renowned expert in digital occlusal analysis technology and author of the Essential Research Handbook on the topic, will share his strategies for applying technology to enhance your complete digital workflow with real case studies. Attendees will learn how to use T-Scan to pinpoint regions to adjust and protect their patients' bites. Luckily this only scratches the surface of topics to be demonstrated and discussed.

Don't miss this exclusive opportunity to learn from and connect with some of the most prominent leaders in dentistry. Register now to secure your spot at this one-of-a-kind event.






24 CDE Credits

BioRESEARCH Assoc. Inc is designated as an Approved PACE Program Provider by the Academy of General Dentistry (AGD). The formal continuing education programs of this program provider are accepted by AGD for Fellowship, Mastership and membership maintenance credit. This course provides 24 hours of CDE credit. Only BioRESEARCH provides commercial support for this program.

Learn More on Our Website